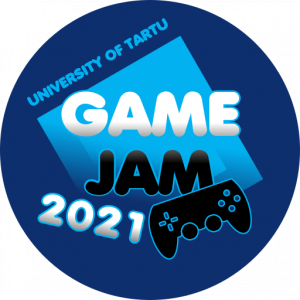 From the 1st to 3rd October in 2021, the University of Tartu Institute of Computer Science together with the CGVR lab organized their own game jam called University of Tartu Game Jam 2021. A game jam is usually a 2-3 day event, where you find some interesting people and develop a small game together. Most often you do not have a plan or a team beforehand and there will be a theme for the game announced at the beginning of the event. This means that you will be in a completely new situation, get to brainstorm a game idea, need to assess your skills in implementing it, learn new things and meet new people. In the end, you have a small game finished, which you did not think you would ever make before the jam. It is usually a very educational, inspiring, and empowering experience.
We have organized game jams before. They were fully online events due to the pandemic but this time we were able to conduct it both on-site in the Delta building and online in Discord. This time we tried to get beginners to our event to give them a taste of game development.
On the first day of the game jam, we started with the opening ceremony where the organizer Daniel Nael opened the jam by presenting the basics everyone needed to know in order to get started with this event. After that, a game developer and staff member of the CGVR lab Jaanus Jaggo gave the jammers tips on how to survive a game jam. His presentation included vital details of what one needs to consider when participating in a game jam. Finally, the host of the evening Jürmo Mehine started forming teams. Unfortunately, we had some technical difficulties at first but we managed to overcome these obstacles and got the ceremony going.
The Teams
In our game jam, we had 44 participants who formed 9 teams. There were also some old faces who have participated in our jams before. However, luckily over half of the participants had no experience in game jams or making games. All teams worked hard and there was not a single team that gave up. Thanks to our instructors Karl Erik Saks, Kristo Männa and Daniel Nael all the teams were given help when it was needed. Most of the participants took this event seriously and were open to learning new things.
The Games
Every team was able to finish their game. Of course, because game jam games are made in a hurry then they are left with aspects that could be more polished. However, it was a lot of fun to see them in action and experience the hard work everyone had put into creating them. You can play all the games here.
The Winners
The final day started with the teams polishing their games and submitting them. After that they had the chance to give votes to every game made in the jam – the jammers themselves were the judges and decided the winners. Every team had to present their games in front of everyone. Finally, the winners were revealed. Their work was rewarded with prizes from the University of Tartu's Institute of Computer Science and from our sponsors LVLup! Interactive Video Game Museum, independent game development studio Keen Software House and game development tools maker Sirenix.
by Kristo Männa, Kevin Polakes, Frederik Raud, Kristjan Puusepp
This team of 4 took the topic of the jam "unstable" and made a bit of a word-play with it, making the main purpose of their game to "un-stable" the horses from a barn. While the premise is humorous, the puns do not end there as the gameplay features first-person-shooter-esc callouts "Horse unstabled!" or "Unstabling spree!" every time you throw a horse out the window. Successful gameplay lets you earn in-game currency which lets you make upgrades to the barn as well as the main character – you.
by Markus Aksli, Arlet Müristaja, Karl-Hendrik Veidenberg, Ivan Hladkyi, Mark Robin Kalder, Anton Katsuba
Terrible things can happen when a nuclear reactor is on a verge of a meltdown. In The Volunteer, the player has a mission to stabilize the nuclear reactor. Seeing it through the eyes of the main character (read this: first-person view) the player must move through the evacuated city, explore and find useful objects to prevent the upcoming disaster.  The game has an immersive environment and stunning visuals – maybe a little bit too stunning at times when the bloom effect is too strong.
by Ralf Brait Lehepuu, Lorette Martin, Karl Erik Saks, Katariina Kornet, Raiko Valo
Wild Magic is a beautiful and artsy 2D side-scroller that gives the player a little taste of magic. Move, jump and dash to find your way through Feywild. But you have to be quick since the unstable magic is growing bigger and bigger by the second,  which will eventually destroy you.