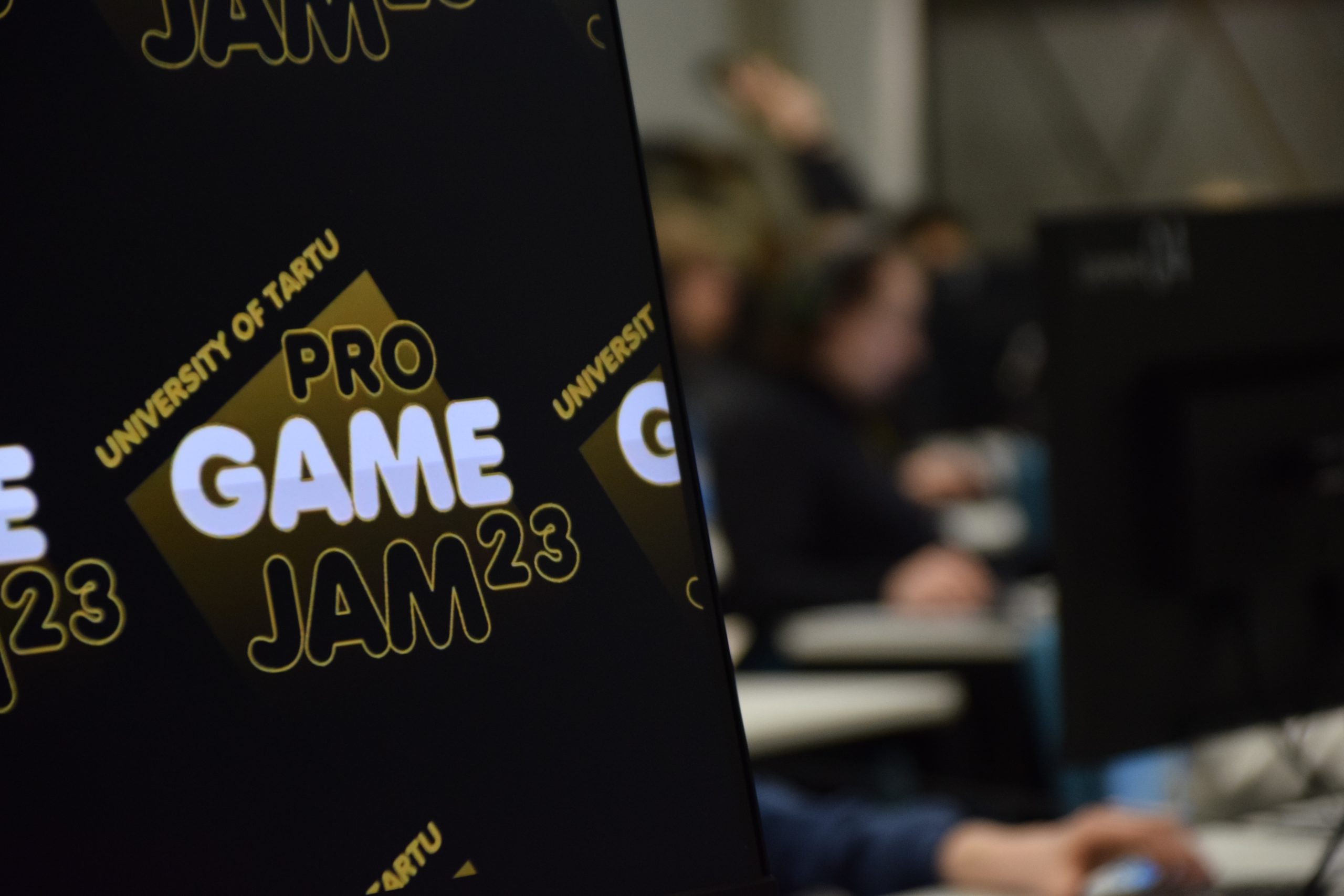 The University of Tartu Pro Game Jam 2023 recently (3rd – 5th February) concluded with 63 participants showcasing their creativity and skills in game development. The event, which lasted for 48 hours, challenged the participants to create games from scratch, based on a given theme.
The University of Tartu Pro Game Jam 2023 was a fantastic opportunity for participants to test their skills, experiment with new ideas and technologies, and collaborate with other game developers. The event brought together individuals from different backgrounds and skill levels, including students, hobbyists, and industry professionals.
There were two leagues in our jam: pros and juniors. Pro jammers theme was "you must die" and juniors participated in Global Game Jam 2023 with their theme "roots". The participants had the freedom to interpret and implement the theme in their games. The results were impressive, with a diverse range of games created, from puzzles to platformers, and even experimental games that pushed the boundaries of what is possible in the game development field.
During the 48-hour period, the participants worked tirelessly to create their games, with some working solo and others forming teams. The teams consisted of artists, programmers, designers, and writers, each with their own unique contribution to the development process. The atmosphere was electric, with participants sharing ideas, offering feedback, and supporting each other throughout the event.
The Games Were Good
One of the most exciting aspects of the University of Tartu Game Jam 2023 was the chance for participants to test their games and receive feedback from other participants and judges. The games were evaluated based on several criteria, including creativity, gameplay, and adherence to the theme. The judges were impressed with the level of creativity and skill demonstrated by the participants and had a difficult time selecting the top games. In our game jam, we had 63 participants who formed 19 teams. Team sizes varied from one to six people.
In the end, six games stood out from the rest, and the teams behind them received awards for their outstanding achievements. However, the event was not just about winning prizes; it was also about learning, growing, and connecting with other game developers
The Winners Were Rewarded
by Laas Hendrik Lumberg, Henry Kaljulaid, Raido Aunpuu & Katariina Kornet
In this game, your character must sacrifice themselves repeatedly to progress from one point to another. The objective is to navigate through various obstacles and avoid enemies in the process. Be cautious and strategic in your approach to successfully advance through the game.
by Kristo Männa & Jhon Avila
This game is similar to musical chairs, except with a twist: guns are involved. You must swiftly secure your seat before the consequences become dire. Act fast and be cautious in your efforts to avoid elimination.
by Johannes Voldemar Langsepp, Kert Karsna & Kristofer Klassen
Your clan's homeland has been invaded by a group of undead creatures, and it's up to you and your fellow clan members to defend against them. In this top-down slasher-style game, your objective is to advance as far as possible in a single run to unlock upgrades for your next attempt. This game includes multiplayer capabilities.
by Lauri Sarap, Ats Johannes Kaup, Kaur Vadi & Laur Saks
"Root to Treasure" is an innovative game that explores the concepts of heritage and lineage. In this game, players assume the role of a historian who has been hired to identify the forefather of a client, who also happens to be a pirate with a hidden stash of treasure. The aim of the game is to match the initial character with their father based on a series of facial features, and to uncover the complete lineage of the original character. With an astonishing 17 million potential characters, the possibilities are virtually endless!
by Timo Jairus, Olaf Seisler, Mihkel Tiks, Veronika Kukk & Helen Leikmaa
The saying goes that money is the root of all evil, but there's no denying that it's a valuable resource. As a business owner, you know the worth of a hard-earned dollar, and your workers have been an instrumental part of your success. You pay them enough to survive, and in turn, they generate wealth for you.
But unfortunately, it seems the God of Justice is displeased with your methods, and Their anger is directed towards you. Your objective now is to escape Their wrath by sacrificing your workers. However, every sacrifice comes at a cost, and your goal is to flee while preserving as much of your wealth as possible. This requires a combination of mathematical skill and luck.
Perhaps some would accuse you of being evil, but what do they know? The poor and powerless often lack an understanding of the business world and the importance of financial success.
by Helen Nurm, Kaur Huko Käämbre, Ander Pavlov, Karoliina Kuus, Adeliina Pärn & Johannes Saarepuu
Push the leaf but be cautious of obstacles on the course that could impede your progress. The wind will be at your back, gradually gaining in strength, so try your best to navigate the course and avoid any hindrances that may arise.
The University of Tartu Game Jam 2023 was a resounding success, and it is a testament to the creativity and talent of the game development community. Big thanks to our partners Simple Magic OÜ, Sirenix, Safecracker OÜ, Keen Sofware House, Warhorse Studios, Lockinn Escaperoom and Coherence. The event provided a platform for participants to express themselves, challenge themselves, and learn from each other, all while having fun in the process. We look forward to the next edition of the University of Tartu Game Jam and the amazing games that will be created.