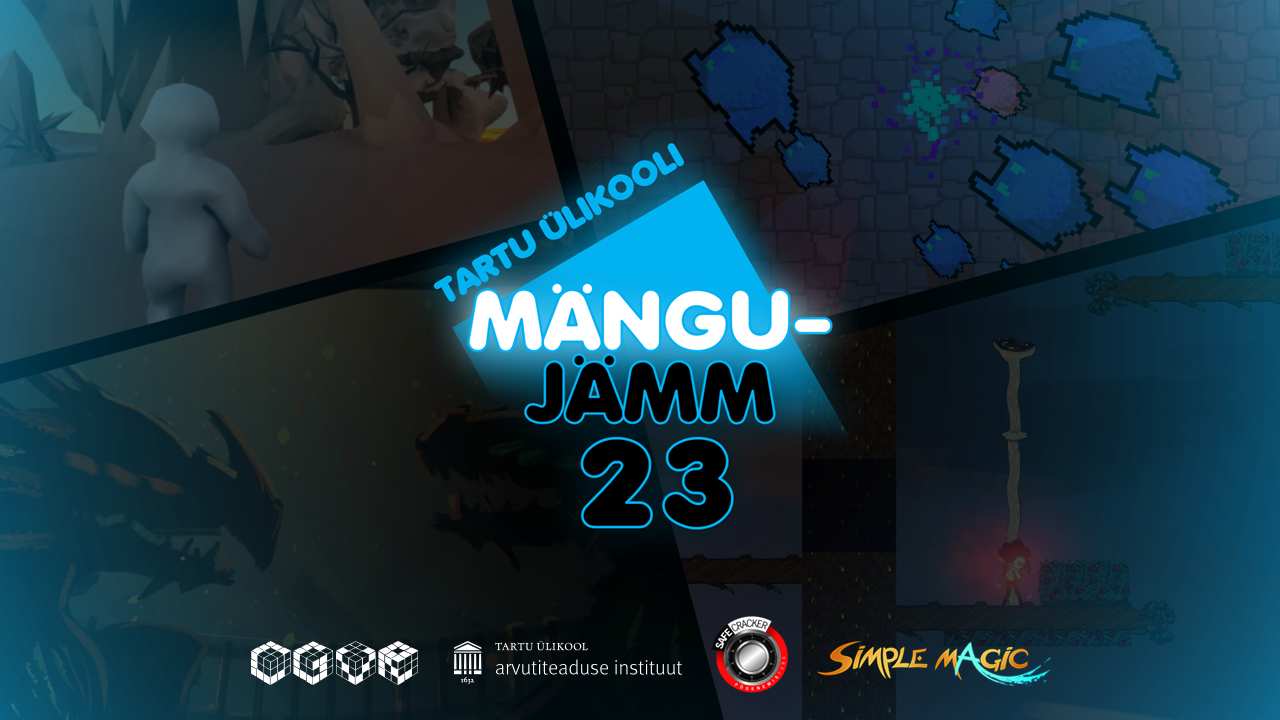 Tartu Ülikooli Mängujämm 2023 was a three-day event that took place from 28th to 30th April 2023 hosted by University of Tartu Institute of Computer Science and CGVR lab. The event was aimed at beginner game developers who were interested in learning more about game development and gaining experience in creating games.
The event started on Friday with an opening ceremony where participants were welcomed and given an overview of the event. The keynote speech focused on the importance of game development and provided information on how to create games during a game jam. The event was designed to help beginner game developers navigate through the challenges of game development and learn from their peers.
The game jam was based on the theme (delivery) from Ludum Dare 53 game jam, which meant that all the participants could upload their games to Ludum Dare jam as well. This provided an additional platform for participants to showcase their creations to a wider audience.
On Saturday, participants were grouped into 12 teams consisting of 42 participants. Each team was given a set of challenges to overcome during the game development process. These challenges were designed to help participants build skills and learn how to work under pressure. The participants were free to choose the game engine and programming language they wanted to use for their projects.
The teams worked on their games throughout the day and night on Saturday and continued on Sunday. The event concluded on Sunday evening with the submission of the games, game presentations and the announcement of the winners. The games were judged based on their theme, enjoyment and aesthetics proficiency.
The Games Were Good
Tartu Ülikooli Mängujämm 2023 was a huge success, with every team able to complete their games by Sunday evening. The event demonstrated that game development is not just about programming, but also about creativity, teamwork, and problem-solving skills. Participants were able to learn from their peers and gain valuable experience in game development.
The winners of the event were awarded prizes and certificates for their exceptional contributions. The winning games were also featured on the award ceremony, providing the participants with an opportunity to showcase their creations to a larger audience.
The Winners Were Rewarded
by Timo Jairus,Ellis Donnik, Timur Nizamov
What are the defining qualities and abilities of a Deliveryman? The winning game shows that a Deliveryman is expected to possess excellent time management skills, swiftly finding the best routes to ensure timely delivery while meeting their clients demands. These attributes are critical to the success of the game's protagonist, who relies on the players guidance to complete all deliveries promptly and handle each item with care to avoid any unfavorable outcomes.
by Ander Pavlov, Karoliina Kuus, Kertu Katriin Kotkas, Adeliina Pärn, Kert Lelov
In this gripping and intense game, you find yourself in an unusual predicament – you're dead, but you still have mail to deliver. As you navigate the afterlife, you'll need to use all your wits and skills to avoid being caught by those who are after your mail.
Stay alert and move quickly as you race against the clock to deliver each package on time, all while keeping a close eye out for any potential threats. With each successful delivery, you'll earn rewards and unlock new challenges, but be warned – one misstep could lead to disaster.
by Kevin Polakes, Henri Sellis, Egon Vaiknemets Jr.
Welcome to a thrilling stealth game where your mission is to steal Liveries from the guards without getting caught. Each livery you take brings you one step closer to victory, but beware – with each success, you'll become slower and more vulnerable to detection. As you sneak through the shadows, using all your cunning and agility to evade the guards, you'll need to constantly weigh the risks and rewards of each livery you take. Will you push your luck and take just one more, or play it safe and escape with what you have?
| | |
| --- | --- |
| | |
In conclusion, the Tartu Ülikooli Mängujämm 2023 was a great opportunity for beginner game developers to showcase their skills and gain experience in game development. The event provided a platform for participants to learn from their peers and work on challenging projects. It was an event that demonstrated the power of teamwork and the importance of creativity and innovation in game development. Congratulations to all the participants and winners of the Tartu Ülikooli Mängujämm 2023! The event was sponsored by Simple Magic and Safecracker põgenemistuba.