Back in 2019, our students showed their games at a gaming convention GameOn in Lithuania. Since then we had been waiting for another chance to go to that event, but due to Covid that wait was for a couple of years. Now in 2022, GameOn partnered up with another big Lithuanian convention – Comic Con Baltics. It was wonderful to finally go back to GameOn with our students. This time the event started already on Friday and lasted for three amazing days (20-22.05)!
The Talks
During the convention, there were talks, panels, and workshops in six different halls. We mostly visited the GameOn Games Conference Hall, which featured game development and gaming talks for full days on Saturday and Sunday. Many of the talks in other halls were in Lithuanian.
However, on Friday we did have a chance to listen to a talk by Paul Takashi in the 5.1 Hall powered by Delfi and Login.lt. Paul talked about drawing. More specifically, his career of professional drawing for video games and fashion design. He went through the fundamentals like form, lines, edges, values, color, composition, and perspective. He gave examples from different styles of drawing and emphasized, which fundamentals are important for each. An interesting approach to drawing was his categorization of the work into two groups. First are those works, which require a prompt. When the client wants something very specific and you draw a finished product. The second was concept art. Where the client needs many versions of their idea to iterate on it. These are drawings that no one will probably ever see afterward. It was really cool to see a lot of primary school students listening to this talk and every one of them asking a question from Takashi.
For the rest of the days, it was onwards to the GameOn Games Conference Hall.
From a Latvian game development firm Coldwild Games, Vladimir Slav talked about his approach to running a game development studio. By default, the employee contract forbids the employee to work in the same field during their employment (and sometimes even sometime after the employment) due to the competitiveness of the business. All the intellectual property that someone creates during that time belongs to the company. Vladimir said that in his company, he encourages the employees to work on other projects as well. Especially personal projects, to which he thinks employees should dedicate 20% of their employee time.
Then a solo game developer Max Mraz talked about he developed Ocean's Heart by himself. It was quite a positive talk, starting from when he got inspired by playing a fan-made Zelda game on his TV, to all the countless of YouTube videos he watched to teach himself the necessary skills.
Afterwards Aleksander Kauch from 11 bit studios talked about their progress of making This War of Mine. How it all started from a little gamejam-esque prototype someone made of managing a ecosystem in a ruined apartment building. Then one of their designers had read a book of a first-hand account about surviving wartime. When these ideas were combined together, they started to see that they had something great in their hands. He then continued to talk about how they purposefully do not depict any specific war, what were their guiding principles in making the game, and even how in Poland this game is considered optional reading for schools.
Then Fawzi Mesmar from Ubisoft talked about creativity and coming up with new good ideas. An interesting stance was that expressing one's creativity is something that everyone owes to society. That you should not be afraid to do it, but encourage yourself to do it, because society expects it from you. He also stated that creativity is inefficient thinking and people come up with creative ideas when working on or doing something else. For example, when walking your dog, taking a shower, commuting, etc. I suspect that these are the times people remember to have come up with a creative idea. It might be that during intense work, they also come up with many good creative ideas, just they just don't (have to) remember these later. I wonder if ideas that come up during arbitrary activities are somehow more creative than ideas that come up during dedicated work. He did not have an answer for this.
The last talk of Saturday in the GameOn Games Conference Hall was from Marijam Didžgalvytė. She said that when people criticize you for playing games, saying that games are bad for society, then remember all the examples, where games have made the world better. This was followed by a large number of examples from cancer patients given a chance to play pre-release versions of their favorite games, to blind gaming YouTubers, groups of people helping each other out in games, etc.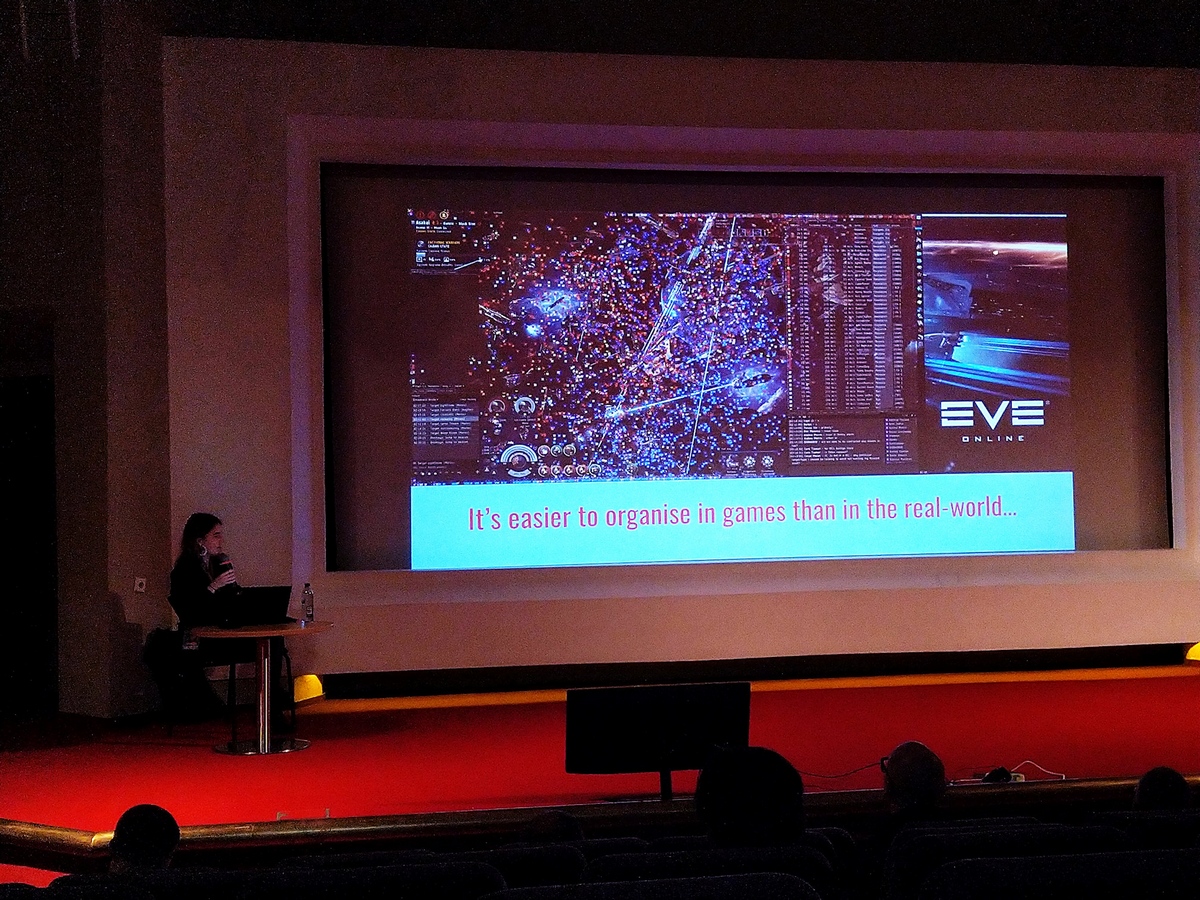 Sunday started with a provocative gamedev education panel on the topic of: Are universities a scam (because no one hires juniors)? On the panel there were three people, including a recruiter. There was a lot of interactive discussion with the audience as well, people were asking a lot of questions. The main point was that going to a university is not necessary. What is necessary is having the motivation to learn new skills. They said that (in Lithuania, I guess) after graduating from the university the person does not really have a portfolio. They are missing personal projects, game jam projects, their GitHub or Artstation pages, etc. These are the things recruiters are looking for, they want something, anything you have done which they can talk to you about.
There was some controversy about what to include in your CV. At first, the recruiter said that include anything, the more the better, but later this was corrected to think critically as not to overload your CV with unrelated information. It also turned out that in Lithuania it is common practice to pay for internships. The job of a parent and school is to help the child find their talents. Failing this results in unmotivated students in the university and people on the job market. Nowadays fluid intelligence is important. The world pays you for what you can do with what you know, not for what you know. Pro tip to get hired is to add "I can google" to your CV.
The day continued with Olov Redmalm, the creative director of Lost In Random by Zoink Games. This was quite a spectacular talk about how they created the world and characters in Lost In Random. He went through their design steps from coming up with themes and art direction pillars to the final 3D art slice.
Next up was Ulas Karademir from Unity. He showcased their new sample game project Gigaya. This is a small game made in Unity by the creators of Unity to test out the full game development workflow and process with their engine. With Gigaya, besides going through the steps themselves, they can also show all the other game developers how Unity is meant to be used. He also mentioned that a lot of the new features of Unity have been made in Lithuania.
Vaiva Vitkute from a game publishing company All in Games then talked about PR. In her very informative talk, she emphasized how PR is not a silver bullet, and you need to take realistic goals with your PR campaigns. For example, when you have a small indie horror game, then trying to get a story on the front page of GameSpot is probably not going to happen. A lot more effective is to rather target specific news sites that promote horror games.
| | |
| --- | --- |
| | |
The last GameOn Gaming Conference Hall talk was from a game producer of Nordcurrent – Andrea Zampedri. His talk was about what makes games fun and he presented a lot of the established theories. From well-known quotes and theories from Salen and Zimmerman to Sid Meyer. Overall it was a very good introductory talk about the core principles of game design. For example, to balance the game's challenge and player's skill to get and keep them in the mental flow state, etc. An important point here was that the fun in video games comes from the learning process.
The Expo
In the GameOn expo hall, our students showed the games they had made during their studies. It was a really nice booth with fancy backdrops and a cozy look. To help expo all the games and spark the booth up we had a volunteer student Aleksandra Leesment helping out. All the high-quality photos were made by Kristel Sergo (OlevusArt).
Ott Saar from Volantibus was showing their game Delivery Mayhem. In that game, you take on the role of a car courier who has to deliver packages within a given time top-down GTA style. We showed this on a big TV and the game was controlled via a PlayStation controller, giving the experience a living room entertainment feel.
On two computers, visitors could play a multiplayer version of the classic game Minesweeper. This was Minesweeper with Friends by Kaarel Rüüsak (https://lordoflemon.itch.io/). In that game you and your friend solve a single Minesweeper field together. You can make mistakes, but that costs you money. When your money runs out, your friend can give you more if they have some left. You can only open up new tiles when you have money. The faster you and your friend can solve the field, the better chances you have in getting your names in the highscore table.
We also had a VR city building experience available. This was the work of Shumpei Morimoto for his Master's thesis. Visitors could build their own little city from the bird's eye view. Different road and foilage tiles, houses, trees, and vehicles could be placed for anyone to be creative build a small town. Afterwards it was possible to go visit the built down from the first-person perspective and walk around in there.
Troubleshooting
The expo did not go without issues. In fact, we ran into unexpected problems with all three games. For the VR city building, it turned out that to cast a feed from the Quest into a PC a solid WiFi with an internet connection was needed. This we were not aware of and thought that just using the link cable would do the trick. It is quite difficult to get a working WiFi, especially one with a good internet connection, going during a big event like this. So we ended up running the project in the Unity editor and using the link cable to send the picture to the Quest.
For Minesweeper with Friends, we had two identical laptops. However, one of these laptops kept overheating and shutting down. Turning off the post-processing effects in the video settings panel the student had made helped. However, that checkbox status was not saved, and as the game had to be restarted after every playthrough, this became quite a tedious checkbox to check off every time. After the first day, we had a chance to debug this. We cleaned the laptops of dust but that did not work. Then we were checking the Display Settings and on the problematic laptop, the Windows UI scaling was 125% (recommended). The other one was at 100%. Changing that one to 100% too actually worked. No more overheating. It was crazy how the Windows UI scaling value caused the GPU load to go from 10% to 95% in the game when post-processing was turned on.
The third issue with Volantibus happened on the morning of the second day. When Ott turned his PC on, there was a sudden burning smell and it did not turn on. It quickly became apparent that the most probable culprit was the PSU from which the smell was coming. Some of the booths in the GameOn hall were selling computer parts, in fact, we had bought compressed air to clean the laptops from one such earlier. However, none of them had PSUs for sale at the expo. Fortunately, we had brought another PC along with us, which Volantibus used until the end of the expo.
Conclusion
In total, it was a very awesome and eventful convention. The students had a fantastic time and learned a lot about improving their games. There was much more stuff to see and talk about. But, generally speaking, it's even better to go experience all of it yourself rather than to read from a blog post. 😉